Visit Pragser Wildsee
In South Tyrol, the Pragser Wildsee Is a Sight to Behold.
Why Is It So Sought-After?
Most comments describe the Pragser Wildsee as emerald. All other shades of blue and green come after. Many consider it the most beautiful lake in the Dolomites. Hardly any other lake in South Tyrol is so well sheltered between steep cliffs and dense coniferous forests. The sun makes it a magical place by playing with shadows and light, constantly reflecting the lake in the water. It is a place at the end of the world. In fact, the lake is located at the head of Prags Valley, in the middle of the UNESCO World Natural Heritage Site of the Dolomites. People gather around along the path around the mountain lake. But "the view, following over the mountains, goes directly to the sky," says Heidi Bürgisser-Heiss, the senior manager of the Pragser Wildsee Hotel. To this day, the hotel is the only accommodation directly on the lake.
When the hotel was built in 1899, the founding family ordered Alois Beer to Prags, at that time the best landscape photographer of the k.u.k. Monarchy. In the 1920s, the lake appeared as a backdrop in the advertising pictures of South Tyrol's poster painter Franz Lenhart. It was a matter of time before international film crews took notice and the New York Times included the Wildsee in its list of "Must Sees."
Hikers and mountaineers have always been drawn to the heights by the lake. Thus, the Pragser Wildsee is a popular starting point for tours of varying difficulty in the Prags Dolomites. This is also the starting point of the Dolomites High Altitude Trail 1 over the Tofane and Monte Pelmo to Belluno.
For a long time, the Pragser Wildsee has been a highlight in the summer in South Tyrol. But it is absolutely beautiful during other seasons, too. During winter the sparkling surface disappears and flashing ice is all you see. It gives a feeling of being able to walk across water. If you intend to do so, you better put on your snowshoes first and go for a nice hike and breath in fresh winter air.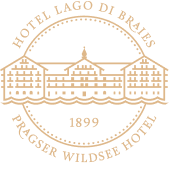 Click Away for Happiness