What Would You Like to Ask Us? We Answer
Dynamic Prices at the Best Price: Our prices take into account the different room categories and current occupancy. All prices quoted are daily prices and subject to availability at the time of reservation. Personalized price offers are valid for two days; the availability of the room for the validity period of the offer is not guaranteed.
Our website offers the best booking price all year around. We do not charge booking or service fees.
Deposit: We guarantee a binding reservation. In order to do so, we charge 25 percent of the total amount of your booking as a deposit. Please transfer the amount within seven days after booking.
Cancellation conditions REFUNDABLE: In case of cancellation up to 15 days before arrival, the deposit paid will be refunded. In case of cancellation 14 days or less prior to arrival, we will retain the deposit paid of 25 percent of the total price.
Cancellation policy NON REFUNDABLE: Please refer to the price lists that state "non-cancellable". These amounts are not refundable. At the moment of booking you pay for the room with advance payment at 100 percent. Once the booking process is completed, booking changes or cancellations are not possible.
Arrival and departure: Please inform us if you plan to arrive after 7 pm. Or if your arrival will be delayed. There will be no rush on the day of your departure, as the room is yours until 11 am.
Dogs: We accept maximum 1 dog per room. Your four-legged darling will lodge in our hotel for a supplement of 20,00 € per day. Unfortunately, we can not give him access to the dining room as well as to rooms of the category De Luxe and Lake Spirit. 
Payment methods: cash payments (maximum 4999,- €), check, Visa, MasterCard, debit card (Bankomat) or a bank transfer. Exception: unfortunately we cannot accept American Express.
Currency: If you want to pay with cash, please provide euros. There is no possibility to exchange your currency on site.
Parking space: As a hotel guest you can park directly and free of charge at the hotel. For a minimum stay of three days, you can park in the parking lot PH. For shorter stays, you can use the parking lot P4.
Good weather: Check the weather using the South Tyrolean weather service http://wetter.provinz.bz.it/
Flying drones: The parking spot area, the beach and the hotel area all the way down to the lake shore are privately owned. Photography and filming with drones are prohibited here. This also applies to amateur photography and to drones weighing less than 250 grams. Drone pictures may only be published with the permission of the owner family. Legally permitted are panoramic flights over the entire lake area. You can apply for a permit for this at the administration of the Fanes-Sennes-Prags Nature Park. Please note that the drone must maintain a flight altitude of 20 meters above the private property because places, structures and people must not be visible.
Tip: It is not necessary, but it is very welcome. Please leave tips at the reception desk. We thank you in advance on behalf of our team, who are going above and beyond for you.
Allergies: Please inform us well in advance of your arrival so that we can keep you happy.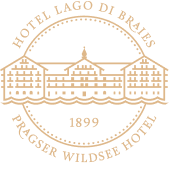 Click Away for Happiness