Emma's Bistro: Delicious food in the horse stable
Our bistro is inspired by hotel founder Emma Hellenstainer. A good cuisine was very important to her, and she liked to do things her own way, especially entrepreneurially. That is the reason why you get the chance to eat in the listed horse stable with terrace and guest garden. Everything has been restored, but it's still a stable. Terence Hill and Daniele Lotti saddled horses here on the set of Heaven So Close, and long before them, horses hauled ice ashore from the lake to cool beer in winter.
Hungry? Lift the pot lids in our live show kitchen and make your own lunch. We like it best seasonal, South Tyrolean and homemade. We are proud of our cakes and desserts. Only want to drink? We serve regional wines, mix cocktails, press juices, and coffee from a South Tyrolean coffee roasting Caroma. 
OPENING HOURS:
The bar is open from 9.00 am to 5.00 pm
Selfservice is open from 11.30 pm to 3:00 pm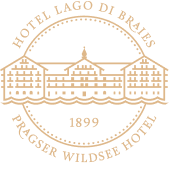 Click Away for Happiness