The Hotel Pragser Wildsee: Your Location in South Tyrol for Wedding Celebrations and Seminars at the Lake
Work where others go on vacation. Get dressed up where most people show up in hiking boots. Why not? That's the trick right there. In the seclusion of Hotel Pragser Wildsee, ideas can grow and communities can be conjured up.
If you wish, we organize wedding and birthday parties, as well as provide rooms and technology for meetings, seminars and conferences. If you wish to wake up from a beautiful dream in the morning, we'll book a room directly on the lake for you and your guests.
The View of the Lake – Priceless
We are not exaggerating when we say our location is breathtakingly intimate, even though the lake is accessible to all. The Hotel Pragser Wildsee originated around 1900 as Grand Hotel and is now a listed building. Our lounges, function rooms and banquet halls have been preserved. Celebrate big or rent small, we have different rooms to accommodate 20 to 150 people.
The view is priceless, and we are the only hotel directly on the lake.


Parties, Weddings & Birthdays
For private celebrations such as weddings or birthdays, we are happy to make our newly renovated hall at Emmas available to you. You can celebrate in a separate room with 70 guests.
For larger parties - depending on hotel occupancy and with a maximum of 120 guests - we clear the halls in the main house in the off-season. It is best to rent the hotel for three days, then you can celebrate without curfew and without a night's rest.
Our kitchen team will provide you with a creative and refined festive meal with wine recommendations. Service included.
Only one wish remains: you cannot get married at the Pragser Wildsee.
Nevertheless, you'll have beautiful photos of your wedding celebration. Please be careful when using drones. It is forbidden to let drones fly over the private property of the Hotel Pragser Wildsee.
Plan with us from beginning to end.


Seminar & Meeting
On the upper floor of Emma's Bistro, you'll be undisturbed. We have renovated the former horse stable from top to bottom and it is equipped with state-of-the-art presentation technology. Ideas can fly and land in the historic ambiance with a contemporary touch.
Our team in Emma's Bistro will be happy to take care of the catering. Tell us openly what you would like to have. Almost everything is possible in this kitchen. You can even cook yourself if you wish to do so.
120 years ago, a lucrative business model was already established here: Noriker horses pulled huge blocks of ice from the Pragser Wildsee in winter, for cooling beer in the big breweries in Munich, Ulm, Vienna.
Now it's your turn to make history.
We make it possible.


Private Dining
Date night. A declaration of love by the lake. A marriage proposal with style. Or two who have found each other again. There are countless stories as to why you are planning private dining.
If you want us to help plan it: we are here for you! And we'll keep your secrets too!
Where should we start? On the lakeside, on the lakeside terrace, or on the sunny balcony on the second floor?
We listen to you, contribute ideas and get to work.


Special Event
You have something completely crazy in mind? Outrageous? Great?
We promise we won't faint. Our hotel has been around for 120 years, so a lot has happened. From photo shoots to filming; from boat races to tests of courage.
We can't wait to see what you have in mind.
Talk to us. As long as it's legal, we're allies.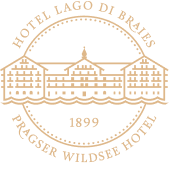 Click Away for Happiness