Swimming or Hiking, Everything Is Possible at the Pragser Wildsee!
Who is brave enough and dares to jump in? The Pragser Wildsee is a mountain lake at 1,496 meters above sea level, and its water temperature barely reaches 15 °C in summer. The air is clear and cool at night; heat-loving people from the city have always enjoyed the summer retreat at the lake in the mountains.
What might you like? You can choose from: circumnavigating around the lake, boating, reading a book in the facing the lake, hiking to the mountains on hot days, identifying flowers and drinking fresh spring water. Some of the most charming tours around the area start at the lake, for example, to the Prato Piazza or around the Schwarzberg. Try the via ferrata at Hochalpenkopf or venture to the summit of Seekofel, Rosskopf, Dürrenstein. Well described mountain tours in the Prags Dolomites can be found here: https://www.prags.net/aktivurlaub/wandern/
Too Good to Be True. Legends and Summer Tales Around the Lake.
The formation of the Wildsee is also connected to mountain stories. Geologists say that two huge moraines fell into the valley and dammed up the water. The storytellers say that the savages in the mountains tore open springs when shepherds tried to steal their gold.
If you can't sleep at night, please look out the window. You may spy a boat with two women on board. According to legend, at full moon a gate opens in the Seekofel, and Dolasila the Queen of Fanes and her daughter Luianta glide onto the lake to hear if the silver trumpets finally announce the rebirth of the once mighty Fanes Empire.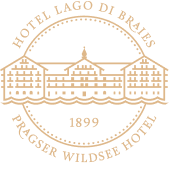 Click Away for Happiness