Why Always Be Busy? Pragser Wildsee Offers a Place Where the World Leaves You Alone.
Romance at the lake? We can do that. A hotelier wants to ease his wife's homesickness and buys a lake for her in 1856. The Pragser Wildsee in South Tyrol is a love pledge done for Emma Hellenstainer. The beloved woman has been given the most beautiful lake in the Dolomites. From that moment, the innkeeper led noblemen, citizens and Alpinists on excursions to her mountain lake. But it was not until 1899 that the family built the Grandhotel Pragser Wildsee directly on the shore. To this day, it is the only accommodation on the lake. And it is still owned by the family. In the middle of the UNESCO World Natural Heritage of the Dolomites, it is all about the history of people, the lake and hotel to the present day. If you pay close attention, you'll discover a treasure here. Precious as the light that dances on the water.
Take a day off or stay as a hotel guest. You are welcome either way!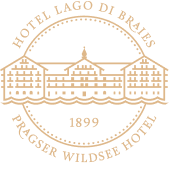 Click Away for Happiness