With Us, You Are at the Place Where the Action Happens
ake a book to your room or to the lake terrace! Did you forget your own? Or didn't take the right one with you? We can help you out! If you are interested in our family history or the history of alpinism in the Prags Dolomites, we've got you covered! You are also directly on the scene while you are reading about the Dolomite front during the First World War or about the transport and liberation of the SS hostages at the end of the war in 1945.
Caroline Heiss and the journalist Hans-Günter Richardi founded the ZeitgeschichtsArchiv Pragser Wildsee (a contemporary history archive) in 2006. It is the first archive dedicated comprehensively to the transport of hostages in 1945. Records, photos, film sequences and documents were collected from all over the world. Richardi published the results of the research in the book "SS-Geiseln am Pragser Wildsee" (SS Hostages at Pragser Wildsee).
As a hotel guest, you have access to the archive itself and to our reference library.
We regularly organize conferences and seminars on our main topics.
Maybe you have new insights and are looking for a coherent place to bring historians into conversation? Our seminar rooms are freshly renovated and equipped with the latest technology. Do you want to take a look?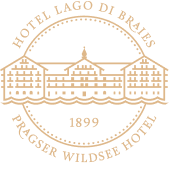 Click Away for Happiness